This takes me back to the days of stealing porn magazines and jerking it with friends. However, this hairy top does more than just jerk with his step-bro!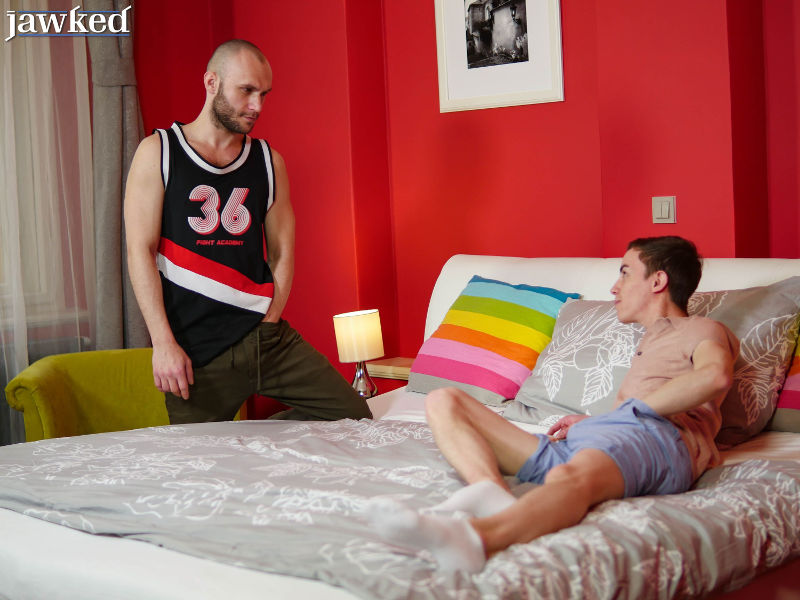 If you're a Gen X guy then there's a high chance you know what it was like to borrow porn magazines. You would share them with buddies and possibly jack off together with them, too.
That's what I thought about when I saw this new video from the Jawked site.
Cute boy Nick Danner finds his step-brother's porn magazine behind his pillow and gets down some good cock rubbing, thinking he's clear to enjoy himself while Donnie is out.
Of course, hairy top Donnie Marco arrives back in the room at just the right time.
After catching the boy getting hot and horny with his bulge in his hand it's obvious he's eager to play.
Thankfully for us, and Nick, Donnie is interested in more than just jerking those dicks over his porn stash. Soon the two are slurping those juicy uncut cocks and taking turns to gobble their bro's boner!
---
---
With their porn stash quickly forgotten hairy top Donnie gets a good taste of that hairless little ass before his big bareback cock is sliding right in, fucking his step-brother in every position.
Bottom boy Nick takes a great ramming for sure. I think we can all agree beats jerking it over a borrowed porn magazine, right?
By the time these two are done those dicks are spewing hot cream all over. All good things cum to an end as hot little Nick takes a shower of spooge from his hairy top bro. And he loves it!
Enjoy some of the pics from this new video but click here to go and watch the whole thing.
I never had a step-brother but if this is what it's like I would have enjoyed sharing porn magazines with one back in the 90s! lol