Fans of real raw gay breeding hardcore are gonna want to check out Flood My Hole. As a matter of fact, it's available to add to your private ROKU channels right now at TLA Gay Unlimited.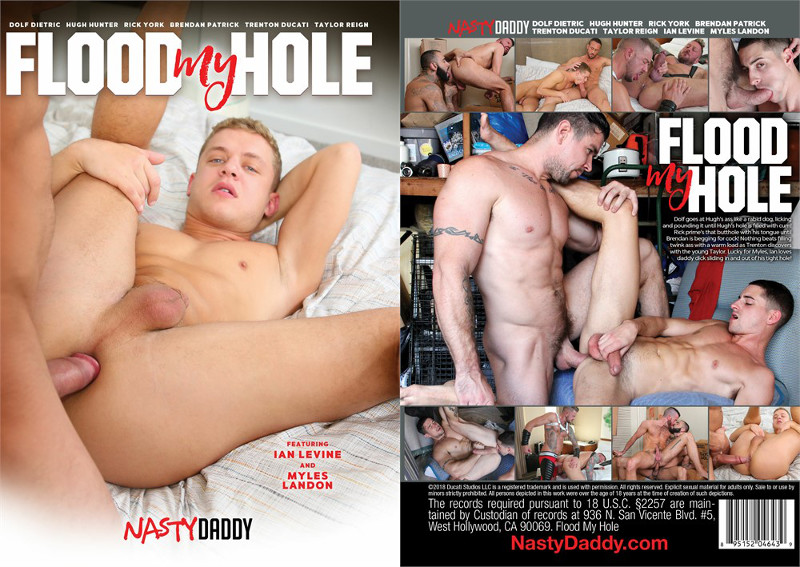 Cast list: Brendan Patrick, Dolf Dietrich, Hugh Hunter, Ian Levine, Myles Landon, Rikk York, Taylor Reign, Trenton Ducati
Studio: Nasty Daddy
When I was a younger man (steady on, I'm not old) all my friends had rules about the age of guys they'd fuck around with. Meanwhile, I was hooking up with awesome experienced men who had very few limits. I had a lot more fun than the guys only going with inexperienced twinks! lol
That's what this amazing movie from Nasty Daddy made me think of.
These guys are shameless, driven by their needs, and desperate to have a good time, and it shows in every minute of this hour and twenty-five-minute movie.
---
---
We get four scenes of real hardcore bareback fucking, with greedy men going to town on each other. They know how to suck a dripping dick, lick out a hairy hole and pound a buddy until their cum is spewing in filling that ass with fresh cream.
You'll recognize a lot of the men in this one, especially if you're already into raw gay breeding action.
They're real men who love to pound ass and gobble dicks and there's nothing twinky about it. It's rough, real, pounding, grunting, sweaty sex that leads to some real hot spoogey endings that should have you all creaming along with them.
Check out some of the stills from the action and click here to stream it right now.
You know you can get adult ROKU at TLA Gay Unlimited, right?
There's a reason it's the best streaming gay porn platform in the world. Their yearly membership is a must-have for any fapper worth their lube. If you need more convincing read my TLA Gay Unlimited review.