MY RATING: 10/10
You guys already know that I fucking LOVE the movies director Joe Gage puts out via Dragon Media. Seeing as I love military cock in my porn too it was inevitable that I would be sharing Military Physicals with you. With this in mind, it's a new arrival over at NakedSword.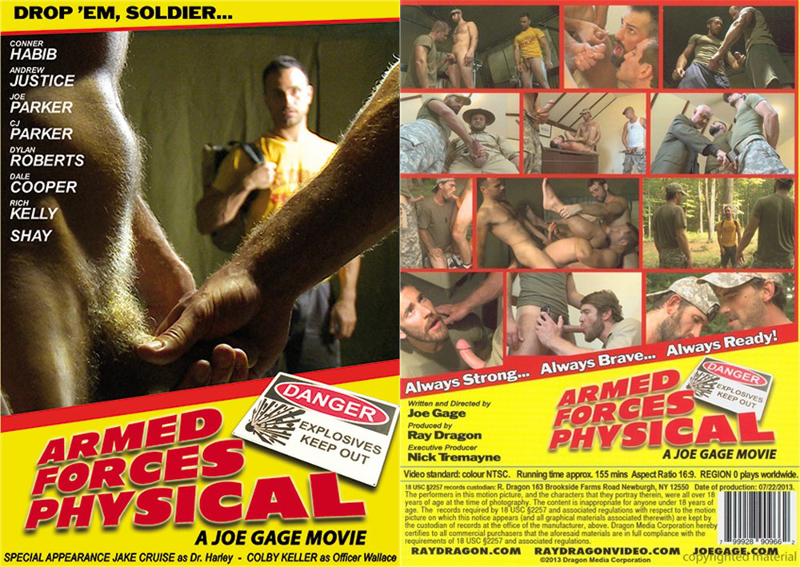 Full cast list: Andrew Justice, C.J. Parker, Colby Keller, Conner Habib, Dale Cooper, Dylan Roberts, Jake Cruise, Joe Parker, Rich Kelly
Studio: Dragon Media
Apparently they've changed the name of this release. Gay porn historians might recall that the film was entitled "Armed Forces Physicals" previously. I'm not sure why they've re-released it under a different name. However, from what I can tell it's the same hard and horny military cock porn we enjoyed the first time. I guess I'll need to watch both versions a few more times to be completely sure there isn't a slight difference between the two! 🙂
I have to admit that while this is a new arrival at NakedSword I've owned this movie for several years. In fact, it originally came out in 2013. The original release has made my dick spurt more than a few times. It's one of my faves, not least of all because it stars some of their most handsome and hunky men in some of the best masculine action you're ever going to see.
I personally can't get enough of Conner Habib. I think he's gorgeous. He really knows how to service a dude and enjoy a hard cock to the max. The opening scene with Conner caught trespassing on a military base is my fave. He is then made to enjoy a couple of dripping dongs which is one of the horniest scenes ever made in my opinion.
One of the best things about their movies is the blisteringly hot teases they deliver at the start of their scenes. In other words, it's like everything goes into slow motion. It's such a unique way of directing the action and it really builds up the lustful anticipation.
You'll get plenty of that in this movie, along with a whole lot of hardcore sucking and fucking between some of the manliest men you're ever gonna see.
In the five scenes total you get a duo, threesomes, fourgies, and orgies, in several settings. Chock full of awesome men desperate to enjoy their dicks and get their heavy loads pumping. Check out some of the pics and click through for the full movie. I don't care what they call this release, it's easily one of their horniest and it needs to be watched at Naked Sword.
Finally, please read my NakedSword review if you need more info about what you get as a member. All in all, there hasn't been a better time to join as "The Netflix of Gay Porn" celebrates TWENTY YEARS in business.  Sign up now for exclusive downloads, along with special monthly giveaways and limited edition 20th Anniversary swag all year long!