Confession time… I'm a pussy. I wouldn't ever think of joining the military because I know I would be less than useless, but that doesn't stop me from thinking about all the stiff-dicked fun I might be missing out on. We all know it goes on, and we mostly know that from studios like Active Duty. If you get off on the idea of military men turning to each other to satisfy their cummy needs (and who the hell doesn't?) you need to check out this new release at TLA Video.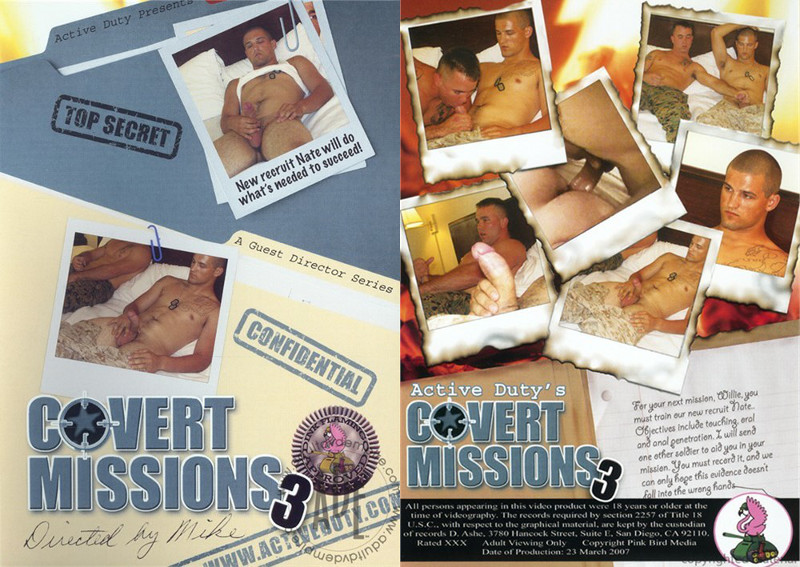 Full cast list: Willie, Nate, Brad
Studio: Active Duty
I've said it before, there are a lot of "straight guy" movies out there where you just know the guys are either gay or bi and just playing straight for the big bucks, but when it comes to the Active Duty guys you know it's not an act. These men really are military guys, and they really are being paid to get their cocks out on video, often for the first time, to share some fun. Sure, some of them just jacked off of got their dick sucked by a dude for cash, but this movie shows the full progression in its five scenes, from a solo jack off to shared bating to cock gobbling and finally full-on ass fucking.
Willie is the recruit being asked to train another couple of horny military men in the art of enjoying some man on man action here, with Nate being the main focus of events and taking some lessons in cock loving fun. Brad makes an appearance too, but let's be honest and say this is mostly about gorgeous Nate exploring things and being educated.
---
CLICK For Discount: 40% Off 1st Month
---
I do love watching movies like this, just because the sight of a guy sucking cock for the first time or sinking his dick into another dudes ass and discovering how awesome it is never fails to get me off, and I don't think I'm alone in that. Be honest, you fucking love it too and if you had a porn studio you would be throwing money at these straight guys and convincing them to get their dicks out 🙂
Check out some of the pics, but make sure you click through and watch the movie, these are classics and they should be in every horny guys porn collection!
If you haven't read our TLA review yet, you really should check it out, I think we've got all the info needed there to convince you that you should be a member.