You guys know I love the locker room setting for a good video. It's even hotter when it's a jock boy threesome like this one!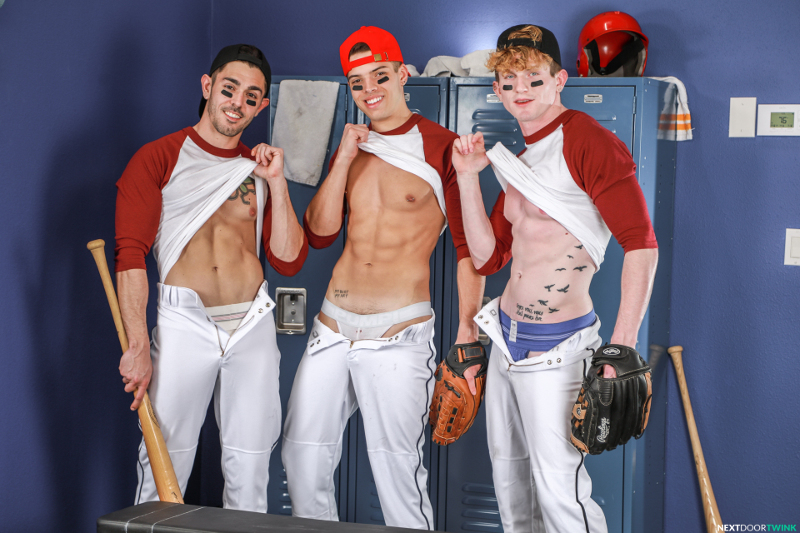 You might have noticed this is a Next Door Twink video, which confuses the fuck out of me.
Just when I think I've got all the terminology right everything changes.
I'm still trying to work out exactly what an Otter is, and whether I can legally call another man a daddy given my own age. lol
I personally wouldn't consider any of these hot young guys twinks, which is why I've called this a jock boy threesome.
Maybe Evan could be called a twink, but I think the other two have to be considered jock boys.
Am I wrong?
---
---
Not that it really matters, of course.
We're here to see these guys enjoying their meaty baseball bats in the locker room, sucking each other's delicious dongs and taking turns to pump some hot hole.
The story is pretty hot, too.
Nico suspects that Evan might be gay, so he invites team captain Max to help him "investigate".
With dicks out for stroking and sucking they soon discover they're right.
This boy loves cock, but it turns out his two teammates love it just as much. Especially their captain, who can't wait to get some raw dick up his hole, too!
It's a great threeway with plenty of dick being slurped, but the fucking is super hot.
Evan gets it first but then Max decides to give up his ass for some good ramming, ending up in the front of a fuck train with Evan as the meaty filling!
My only complaint (if I have to have one) is that they abandoned the uniforms too quickly.
I think it would have been hotter to see these guys going at it in their sexy sports gear for a while before getting naked.
Still, it's a damn hot jock boy threesome you're gonna be watching more than once.