He's an insanely ripped muscle gay cam guy. I can't lie and claim those awesome abs weren't the first thing that pulled me in.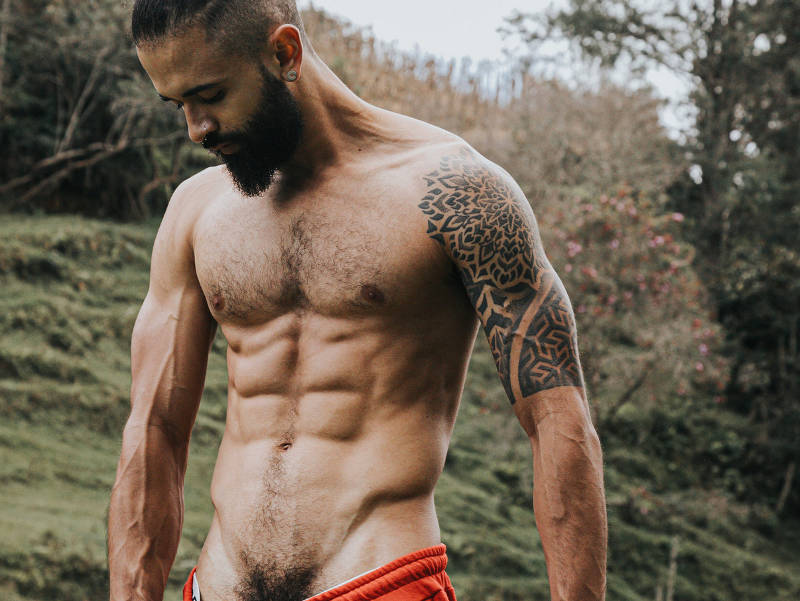 Some guys are ass men. Some are all about the shoulders, and others are into thick arms.
While I love all that, I must admit that some awesome abs on a ripped guy will get me hooked and wanting more.
You know I pretend to "work out." I mostly go to the gym to check out the guys and maybe hook up occasionally.
One thing that's a consistent draw for me is a great pair of abs on a super-toned dude.
Colombian hottie Max Greenn has that and more.
This ripped gay workout chat model isn't super pumped muscle man. It's doubtful you will find him weight-cutting for a physique contest, and you probably won't see him pumping iron like one of those huge muscled men. But you might find him cycling, running, or even rock climbing.
He's got that kind of body, and I love it!
I'd never turn down a real muscle gay cam guy, but give me a super fit gymnast dude any day. 😉
---
---
While it's our first time checking Max out here, he's been showing off on gay cams for more than a year.
In that time, he's grown quite the fan club.
It's not just because he's insanely toned, and you could hand wash your boxers on his abs like an old Victorian lady (don't ask me where that line came from; I genuinely have no clue). He's also a bisexual stud with a 7″ uncut dick and the kind of personality to give you a great show.
Want some role-play? He's got that covered. Like some anal play? He's down to open up and slide a toy in. Just want a good cock show with an excellent finish? He'll deliver.
Check out some review pics. Then click here to see Max flexing on gay muscle cams!
Muscle Gay Cam Guy Max Greenn
Are you still here? Click to see this muscle gay cam guy performing just for you!