He's not only handsome, super fit, and a star of the Corbin Fisher gang, but this power verse top is also packing a long jock cock to use on eager bottoms!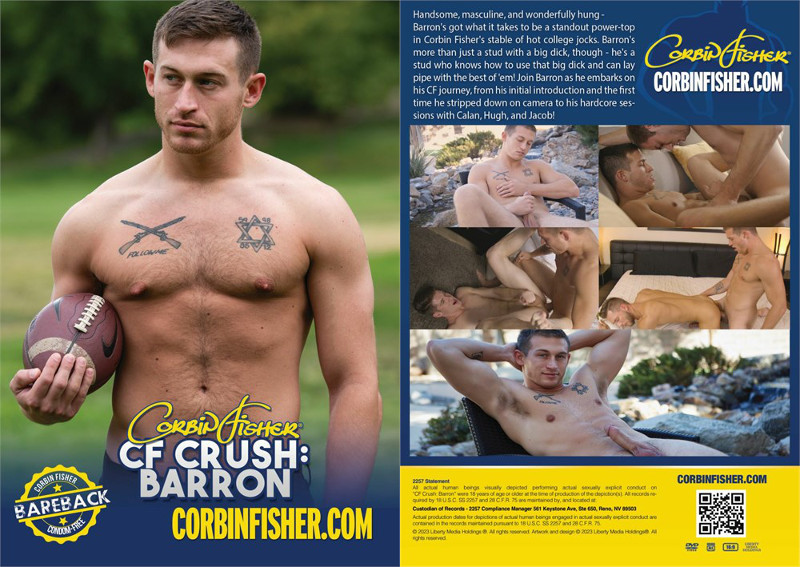 Cast list: Barron, Calan, Hugh, Jacob
Studio: Corbin Fisher
You don't have to be a power verse top with a thick and long jock cock to be a star at CF. However, I believe it helped make sexy Barron one of their top performers.
This handsome young hunk really grabbed the audience by the dick and didn't let go. You'll understand why when you see this remarkable collection of scenes.
I love these releases they put out.
All of their gay porn vers videos deserve to be streamed, but their compilations focusing on one hot young hunk are some of the best.
We get to see Barron's progress from solo jack-off to pounding anal in this hour and fourteen-minute special. If you're into versatile gay porn, stream this hot guys cumpilation now at TLA Gay Unlimited.
---
---
This straight stud started out when he was 22, adventurous, and open to almost anything.
Corbin Fisher Barron was in the military and had that confident and easygoing attitude. He was happy as long as his thick and juicy dick was getting the attention it needed.
I don't think he expected to be pounding other dudes or riding a dick himself, but it doesn't seem like it took too much to convince him. lol
He appeared in so many Corbin Fisher gay porn videos during his time there, but these four scenes are definitely some of the hottest.
We really get to see every side of him in this release.
Click here and watch this handsome hunk and his thick and long jock cock in action.
They have plenty of CF movies to stream at TLA Gay Unlimited, but if you need more convincing, click here for my review.
Power Verse Top Barron Corbin Fisher