MY RATING: 9/10
I have to confess that I usually shy away from thinking about what it would be like to be totally owned and dominated by a big muscle dude. However, when it comes to this handsome hunk I think I would gladly let him have his way with me! Check out Don't Fuck with Tomm, a new barebacking arrival at our favorite online porn streaming service TLA Gay Unlimited!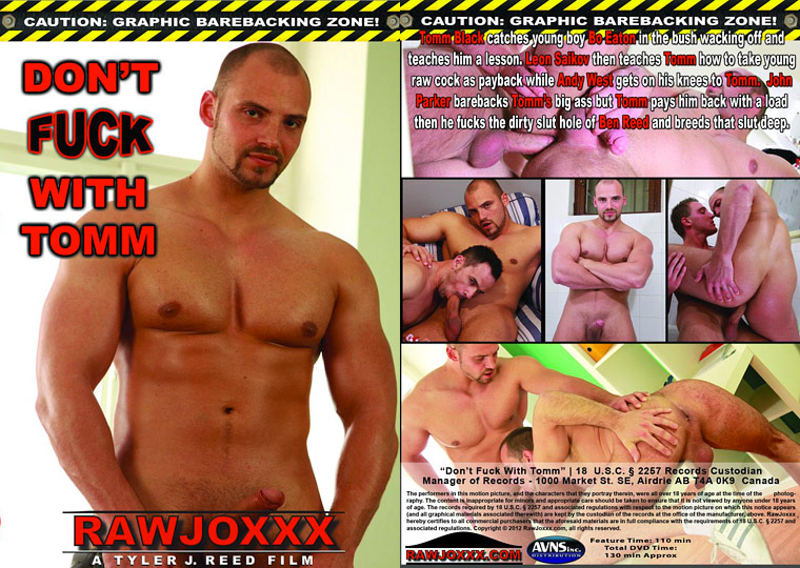 I'm also gonna admit that I know Tomm (aka Zack Hood) from some previous work for a couple of the best European studios, so I've been a fan of this big man for quite a while already. I'm actually surprised guys like this aren't more well known outside of Europe, but I guess American audiences already have plenty of California Jock dudes to watch.
You're gonna be glad you found him when you watch this awesome new release from the RawJOXXX/Alpha One Media studios.
You get five bareback fuck scenes in this one, with "Tomm" playing the central role as he gets plenty of cock to suck, mouth to feed and raw ass to sink his naked meat into.
We start out with a real horny session when he finds a boy out in the wild wanking his cock. "Tomm" then decides to jump right in there with his own fuckstick, blowing the lad and feeding him his stiff uncut meat before banging him in the butt right there in the open! That should give you a good idea of how this one is gonna go, but don't think this big man is shy about giving up his own tight and warm hole.
If you really get off on handsome and powerful hunks sharing their cock with other gorgeous guys then you're gonna want to click through and watch this one. If you still don't know how awesome TLA is, click here to read our TLA Unlimited review and find out why we think it's the best value when it comes to streaming porn.
Yeah, you know we're trying to sell it, but we really don't need to try that hard, it's so good!