If you're feeling thirsty and need some good gay cum eating action, you're gonna want to click play and stream Cum Crazy Jiz Eaters!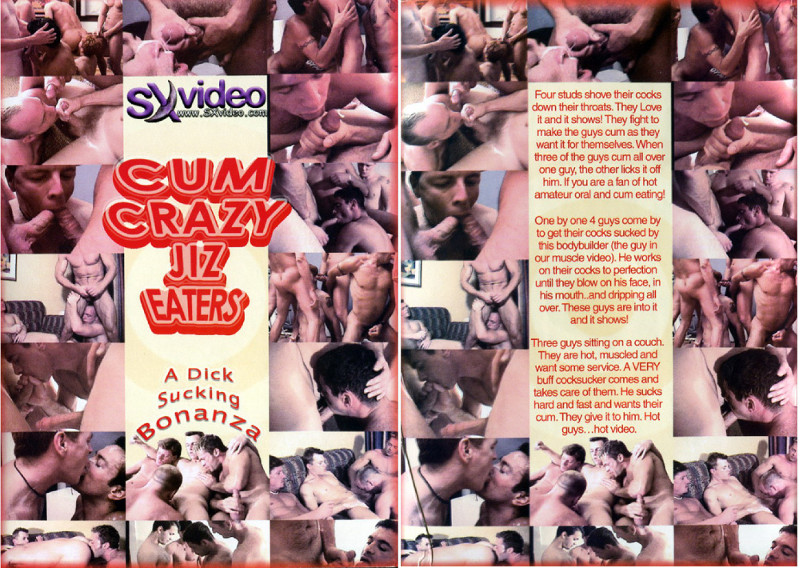 Cast list: Will Anton, Kelly Madison, Joshua Preston, Reed Parker, Guy Dickens, Scott Hornberg
Studio: SX Video
If you think we Brits are reserved and timid, this movie should set things straight.
We are some of the horniest, greediest, most passionate cock and cum lovers on the planet!
If you're a fan of spooge sessions and lots of gay cum eating, you're definitely gonna want to check out Cum Crazy Jiz Eaters at TLA Gay Unlimited.
---
---
I need to mention something before I continue.
This British title is incorrect. In the UK, we spell it "Jizz." So, I'm not sure why they dropped a z.
Not that it matters. The movie is still packed with 60 minutes of awesome cock servicing.
These guys love penis. They love stroking it, they love sucking it, and they love draining the hot milk from every cock that comes their way.
Unlike many UK productions, this collection of horny cock loving action isn't packed with twinks.
I know we Brits are kind of famous for twink porn, but we have some hot muscle guys too.
I think they're all in this one.
We have some awesome buff hunks slurping down dicks and swallowing masses of sperm in this movie.
They're super masculine and super horny guys. Most of them look like gym-buff dudes who just returned from a workout.
You know more than a few of them have been guzzling sperm in the gym showers! 😉
Check out some of the stills I grabbed from the cum eating gay porn movie, but click here to stream it right now. You're gonna want to see all the splashing, cummy, slurping fun these horny gay cum eating dudes enjoy together.
Click here if you haven't read our TLA Gay Unlimited review.
Gay Cum Eating Pics