MY RATING: 9/10
I would love to know how the Kristen Bjorn studio finds their models, I can only imagine they spend most of their time cruising gyms looking for the most gorgeous hunks before throwing money at them to get their dicks out for a movie like this one. It's Raw Tomcats, and it's so damn hot you're gonna be watching it a few times.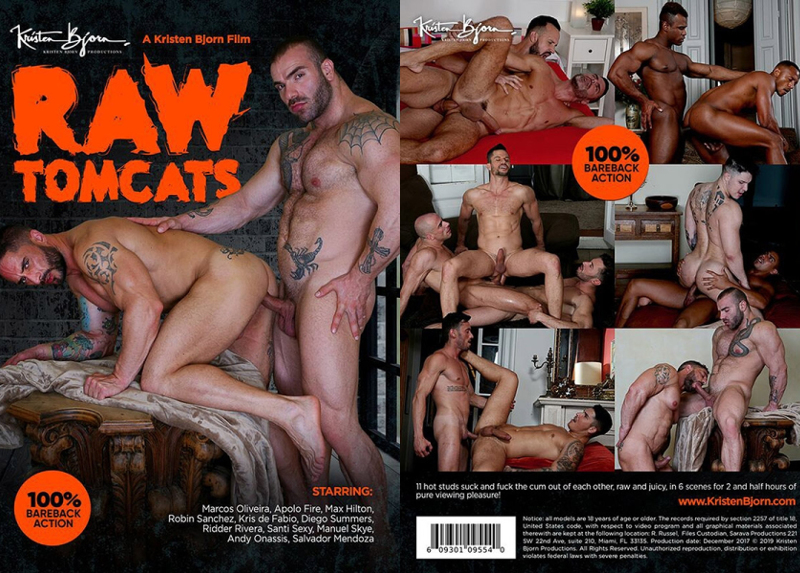 Full cast list: Andy Onassis, Apolo Fire, Diego Summers, Kris de Fabio, Manuel Skye, Marcos Oliveira, Max Hilton, Ridder Rivera, Robin Sanchez, Salvador Mendoza, Santi Sexy
Studio: Kristen Bjorn
To be honest, I could probably confess to wanting to work for about ten different gay porn studios around the world. However, Kristen Bjorn is undeniably one of the best when it comes to handsome and rugged hunks enjoying awesome sex in lavishly produced movies. I know I've probably said this before, but you can tell it's one of their releases just from the photos of the men, you don't need any text at all.
Being one of the best at creating awesome real gay porn you can already be certain that this bareback fiesta of fucking is top-notch. It's 150 minutes of hardcore cock sucking, hole pounding, cum splashing action that's gonna have you unloading with them for every scene.
You get six scenes in this release, each one just as awesome as the last, and the next. I have a special appreciation for threesomes right now, so I'm gonna recommend you check out scene three in this one with some awesome gay DP fucking that's gonna have all you greedy boys skipping back to watch it again.
Check out some of the pics, and get over there to watch it right now. If you still don't know what you're gonna get with a TLA Gay Unlimited membership then you need to check out our review.