MY RATING: 10/10
I have a confession to make. When I was younger I was a bit of a rebel and I was easily influenced into stealing by one of the friends my parents warned me about. I was never caught by security and I only did it a few times, but for some reason, I was thinking back to that time and wondering what would have happened if a horny security guard had cornered me in a back office. 🙂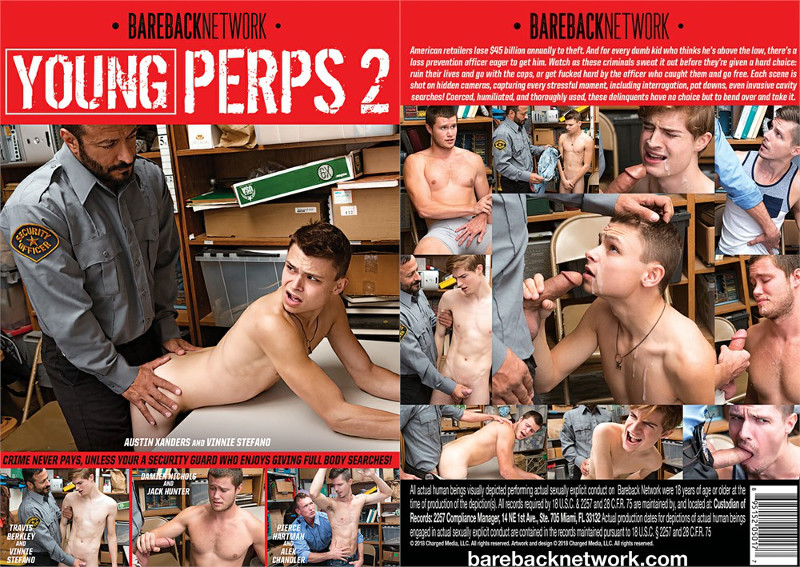 Full cast list: Alex Chandler, Austin Xanders, Damien Nichols, Jack Hunter, Pierce Hartman, Pierce Paris, Travis Berkley , Vinnie Stefano
Studio: Bareback Network
Yep, I really wouldn't have minded if big man Pierce Paris (formerly Hartman) had caught me shoplifting and taken me to the storage room to be taught a lesson, just as he does for Alex Chandler in scene two of this almost three-hour fuck movie!
I guess you've probably worked out the theme to this, it's quite obvious. Young guys are being caught trying to steal and then taken to the back storage room where cameras have been set up to record all the action. The young perps are given a choice, they can't either face the cops and likely be charged, or they can do their captor a favor and take a good load from that big manly fuckstick.
Of course, given the circumstances, all the boys are down to deal with a big piece of meat instead of ending up with a rap-sheet. We all know it's a no-brainer, not only do they avoid getting into some real trouble but it gives them an excuse to handle a big cock, suck a piece of hard man meat and get a good bareback fucking too. Who wouldn't take that option?! lol
There are a lot of great guys in these four long scenes of hardcore butt banging, but I'm definitely loving the scene with big man Pierce fucking young Alex the most. I've already shot a big load with those guys and I think I might have to go back and watch it again! 🙂
Check out some of the pics and click through for the movie, you're gonna love this one. If you still don't know why TLA Gay Unlimited is the best gay porn streaming service in the world, read our review and you'll understand.