Whether you know about it or not, pretty much every city in the world has one of those clubs where anything goes. I guess more liberal cities don't need to hide it, but you can bet these places exist all over. I've been to one, but it wasn't quite as wild as the action in Backroom Fuck Boys, which you need to see, by the way!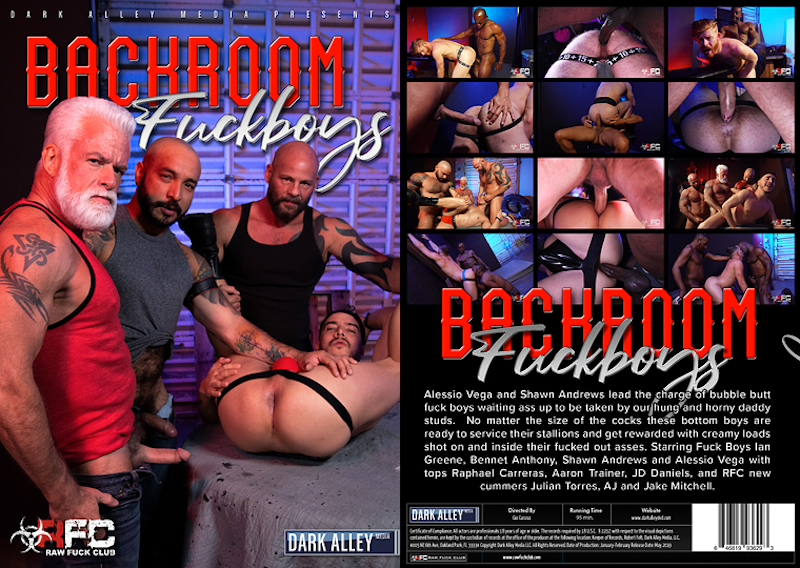 Full cast list: Aaron Trainer, AJ, Alessio Vega, Bennett Anthony, FFurryStud, Ian Greene, J.D. Daniels, Jake Mitchell, Rafael Carreras, Shawn Andrews
Studio: Dark Alley Media, Raw Fuck Club
[yasr_overall_rating]
Waaay back, when I was a wee little gay freshly out of the closet, I started going to the only gay pub we had anywhere near us. It was a little place, but it had a massive basement where they'd put in all these dark rooms. I guess they used to hold sex club events there before they went gay and just found their audience (I think both the owners, a married couple, were bisexual swingers). I went with a straight(ish) friend once and he had more balls than me when it came to that kind of thing. I lost him in the pub and half an hour later he reappeared telling me all about how he'd just been sucked off in the basement and shot a load all over this other guy's dick.
This release directed by Gio Caruso is a lot hotter than that, but whenever I see a movie about "backroom" action I always think of my friend and wonder how many times he went back to that pub without me. lol
I guess It's pretty obvious what this movie is about. There are four bottom dudes desperate for cock and cum hanging out in the back room, and a gang of horny fuckers with loaded dicks come and use them in these four scenes. It's a good mix of one-on-one bareback fucking and gang bang action too, with scene three possibly being the best one out of the bunch.
It's all fucking hot though, so you should check it out and enjoy the show. Come back and let me know what you think of movie in the comments!
Check out our NakedSword review if you don't know what you get there, I think it's pretty persuasive. 🙂