MY RATING: 9/10
Sometimes you need some real good ramming action in a movie, and this release from the Raw Joxxx studio discovered this morning is likely to keep me entertained for a while. You should be adding Raw & Rough to your collection if you like muscled and mean men greedy for cock and ass, which is all of you, right? 🙂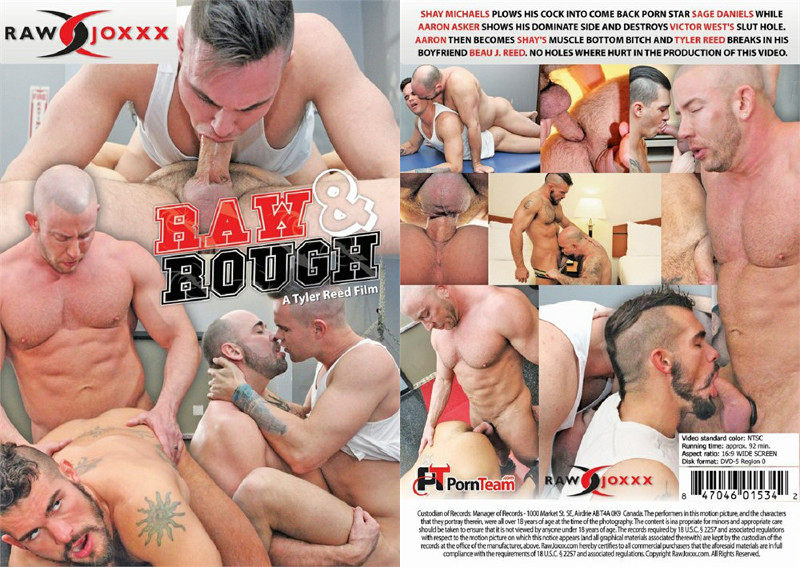 Full cast list: Aarin Asker, Beau Reed, Sage Daniels, Shay Michaels, Tyler Reed, Victor West
Studio: Raw Joxxx
So I guess you can tell from the cover that this is gonna be a sweaty, grunting, cummy mess of hardcore bareback fucking between men who you could totally imagine would be participating in all of this. Paid or not. And you would be right to think that! Sometimes you can judge a book by the cover, or a movie.
You'll recognize a few of these men from some of the awesome hardcore movies we've enjoyed on the blog before, notably Tyler. He's a big and burly hunk who fits right in with the cast in this hardcore collection of scenes. However, he's by no means alone in his love of tight hole and hard cock.
You get four pairings of sweaty and hairy hunks gorging on dick and ass in this one, in various settings too. With this in mind, my favorite is the locker room scene. In my opinion, not enough gay porn is filmed in gyms, showers, and locker rooms. But then I'm just a freak for those kinds of sporty locations where guys get their dicks out. 🙂
I can't pick one of these scenes as the best, they're all hot. I haven't jacked off to all of them (yet) but I did give it a good look through. In fact, I'm actually finding it hard to decide which scene to enjoy first. 🙂
Check out some pics, click through for the movie preview. Finally, if you still somehow don't know why we think TLA Gay Unlimited is the best gay porn streaming service in the world, read the review and you'll get it.