Guys, if you lust after some street trade bad boys this update is for you. Did I mention, straight street trade too? If so, then you certainly picked the right place to hear this latest gossip. Allow us to introduce one of the hottest guys on the Zack Randall site, Corey Gunz.
EDIT: Yes! Corey Gunz returns to fuck some gay ass! Click here for the post.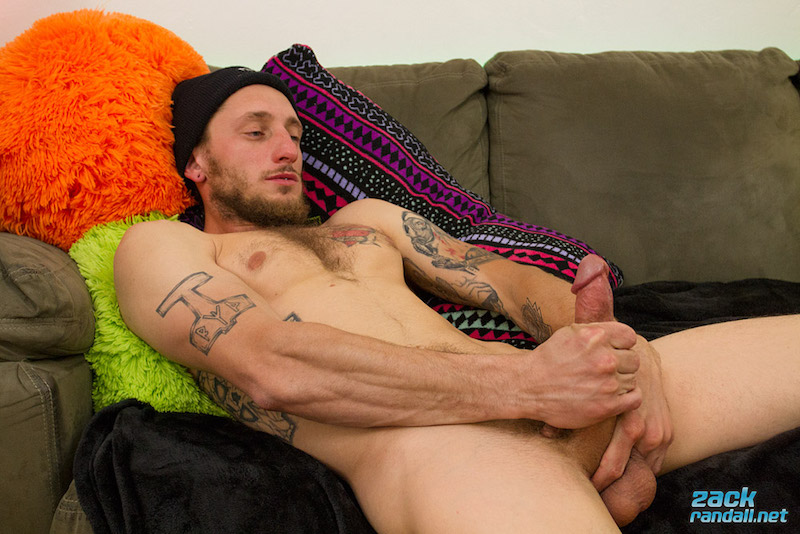 If you haven't seen this fit inked dude yet I can only assume you've been in a coma. In which case congratulations on your return to health! Don't worry, we'll catch you up with all things worth fapping!
Corey arrived back in July last year to shoot an amazing solo masturbation scene. Watching the rough dude enjoying his 8-inch cock and swinging his big balls around did it for me. I couldn't wait to see him back in front of the camera. It definitely took a while. In fact, it took so long that Cody Cummings could have retired and returned four times. (lol) Eventually, Corey was back in December much to my delight. This time he strokes out some cum with fellow straight guy Dom Ty in a side-by-side jack off.
I must confess. I love seeing straight guys just enjoying their dicks together in a jerk off like that. It gives me hope that a few straight friends I lust after might one day show me their dick. However, I was still hoping for more from the guy. We kinda knew that he was a little more "open-minded" than most, right? I have a sneaky suspicion Corey's been sucked by a couple of guys in the past. You know he's been blown in a gas station toilet, or the alley behind the club. Just look at him!
Furthermore, my secret squirrel sources in the business tell me that he has in fact been back to fuck another guy in the ass for the first time!At this time, I don't know when it's going to be released. What I really want to know is the name of the lucky guy taking that cock.
In my opinion, any chance to see a real straight dude like Corey sliding his meat into a willing lad's ass for the first time is not to be missed. Sure, all the smooth straight twinks and jocks on sites like William Higgins are awesome. I crave them all more than you know. That said, I do have a special appreciation for really rough guys who have that certain something about them. Corey Gunz is definitely one of those guys.
Don't worry, my horny little things. We'll be ready to let you know the second that new video arrives. With this in mind, now would be a great time to sign up to our NEWSLETTER.
In the meantime, get your hot little ass over to the Zack Randall site. Take a good look around. Believe me, Corey Gunz isn't the only straight dude there. I look forward to seeing him and others getting some first-time hole indeed.
Cheers m'deers!
---
CLICK FOR OUR REVIEW OF ZACKRANDALL.NET
---